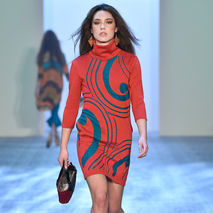 Merino and cotton knit reverse appliqué collection
This collection is seeded in my exploration of the art of moko kauae. It draws inspiration from the 1970's work of Harry Sengi who captured on canvas, kuia who wore moko kauae. The garments accentuate a style that is both conservative and humble. This is the look that resonates for me from Sengi's work and appears to befit the style of that era. It aligns with Sengi's own observations that the kuia were very humble and homely and that the majority of kuia tended to their gardens, whānau, and marae. A further foray into the clothing style of that era denotes a variety of humble and simple style clothing with a particular emphasis on jersey dresses. The fabric that features in this collection reiterates the natural grace and style of that time period. The use of Merino provides character and depth of design and adds a simple yet effective lustre to the fall of the garment and its flow as it moves simply and aturally with its wearer. The lined fabric is a symbolic representation of the lines that celebrate the etching of our skin and herald who we are as wāhine Māori while the designs themselves are a selection of Māori iconography evident across the everturning world of Toi Māori.
The depth and richness of the colours burnt orange teal green and blue are symbolic of the moko kauae and our female essence. The burnt orange calls us to nuture our connection to Papatuanuku and the kokowai that we were created from – as wāhine we wear moko kauae and the lines etched on our skin are etched into this collection in the same teal green and blue to depict the Awheto Hotete and other pigments that were used to produce the blue and green ink of today. The colours tell of the passage of time – evolving across time and space but inextricably linked to our past a we move into the future.
To replicate the process of uhi, a reverse applique tehnique is used to portray the cutting through the skin to not merely mark the skin but to bring forth the design that was always within. This technique involves layering fabric, and then sewing through those layers to create the design. The final component of the process is cutting away the top layer of the fabric to reveal the design itself.
This collection articulates my connection to the journey that so many of us will travel as we seek to learn more about who we are as Māori and wāhine and how we may make that journey from within the realms of our passion, inspiration and commitment to ngā taonga i tuku iho.