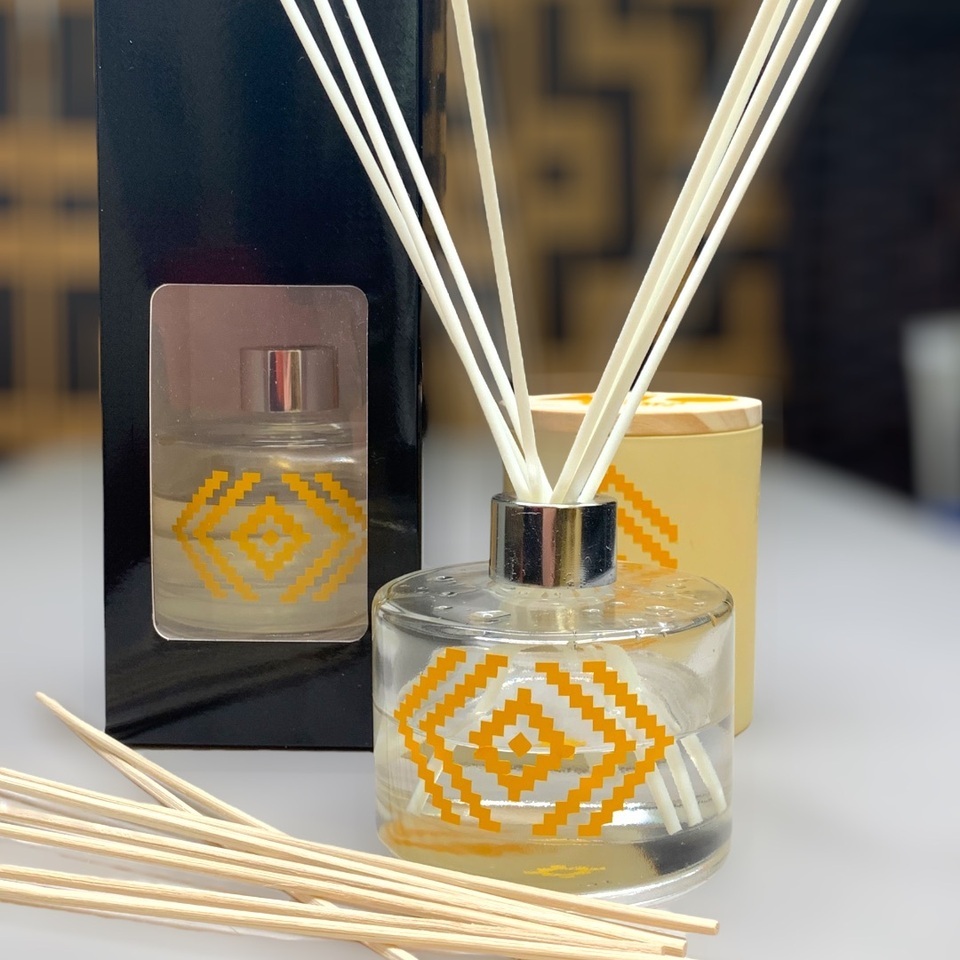 Āhuru blended fragrance Reed Diffuser set.

Includes:
8 x natural reeds
Glass silver top Diffuser bottle with plug
115mls of fragrance & mineral oils
Box with window

Please add $10 courier (NZ residential RD$15) at checkout
ĀHURU ....

A familiar comforting scent …. a reminder of hot tropical summer holidays in this luscious blend of citrus, creamy coconut, juicy passionfruit and florals.
Our Āhuru scented candle is a combination of fragrance oils, soy wax and coconut wax
Natural Reed Sticks
Our supplier provides the highest quality natural reeds which have been carefully selected after lengthy testing to provide maximum scent throw and decorative benefits.  Our Reed sticks are made of ... Reed.  Beware of imitation sticks made of bamboo, wood, and all manner of things that look like reed. For a reed diffuser to work you need 100% real reed stick
Specifications
Height: 250mm
Thickness: 3mm
Color: Natural
Recommended Reeds Per Jar: 8

Volume: 115ml 

Top Note: Lime 
Middle Notes: Coconut, Passionfruit.
Basenotes:  Vanilla Light
Vessel Specifications:
Height: 250mm
Thickness: 3mm
Color: Natural
Recommended Reeds Per Jar: 8

Store diffuser on a flat, stable surface away from open window or curtains.
Ensure diffuser is placed securely to avoid being knocked over or affected by wind.
Keep out of reach of children and pets.
Turn reeds weekly or as required to ensure continued fragrance.
If the scent is too strong, remove a couple of reeds.
If diffuser oil is spilt, clean with a wet cloth immediately. 
Keep away from direct heat or sunlight to avoid the reeds drying out.
Upon first use we recommend saturating both ends of the reeds in diffuser oil.
Simply insert the reeds into the oil then turn them over. Repeat this process at least every week or so to keep your reeds fresh and enhance the scent throw, if the scent is too strong simply remove one or two reeds until you reach your desired intensity.